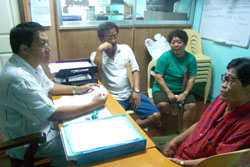 Barangay leaders keep Molo square clean
Molo District Barangay Captains Association
President Segundina Morales (far right) with
The captains of the barangay Leo Aristoza and Jocelyn
Hormina during a meeting with the Rev. Tom Delicana,
parish priest of Sainte-Anne parish.
A. Chris Fernandez photo
Representatives of the Association of Barangay Captains (ABC) in Molo yesterday met with the parish priest of St. Anne's parish to request a review of an earlier resolution passed by the Parish Pastoral Council (PPC) calling for the regulation of activities shopping centers in Molo Square.
ABC Molo District President Segundina Morales as well as Barangay Captains Leo Aristoza from North Fundidor and Jocelyn Hormina from Taal have requested an audience with the parish priest, Rev. Fr. Tom Delicana to discuss matters relating to the outfit. carnivals and commercial activities inside and outside Molo Square as part of the district's next patronal feast.
Morales, during the dialogue, told Fr. Delicana that she had no idea that the PPC wanted a settlement of kiosks and carnivals in Molo Square. She said they could have talked about it before the vendors started occupying the area.
Nevertheless, Morales assured Fr. Delicana that they will keep the interior of the square clean. She said that each occupant would be required to have their own bag as a garbage bag.
Morales also informed the priest that they would not allow any passing "ukay-ukay" vendors to place their belongings in front of the church or in areas used as passageways. Passage vendors generally sell their wares on the passageways every Saturday and Sunday.
During the dialogue, Hormina asked Fr. Delicana to identify the part of the square that they wish to free from the stalls or kiosks. But, part of the area that the priest wants to clear has already been occupied.
The parish priest wanted to have an unobstructed view of the facade of the church which overlooks the mansion of Timoteo Consing.
Reverend Delicana, however, did not insist on removing the kiosks already occupying the area as there are no more areas available where they could be transferred.
In an interview, Rev. Delicana said he took the occupants into consideration as they always came from different places to sell their wares inside Molo Square.
He just wanted the sellers to have an orderly placement of the structures as well as the things they sell.
He even asked the ABC to take steps to make all "ukay-ukay" kiosks neat and tidy to look at. The "ukay-ukay" kiosks are located outside the square.
It also enabled the owners of the rolling stores to continue operating. However, he said, they should clean their areas and keep all of their personal items such as bedding during the day. Some owners of rolling stores sleep inside the square.
The priest also wants the sound system as well as the videokes to be turned off every time there is a mass.