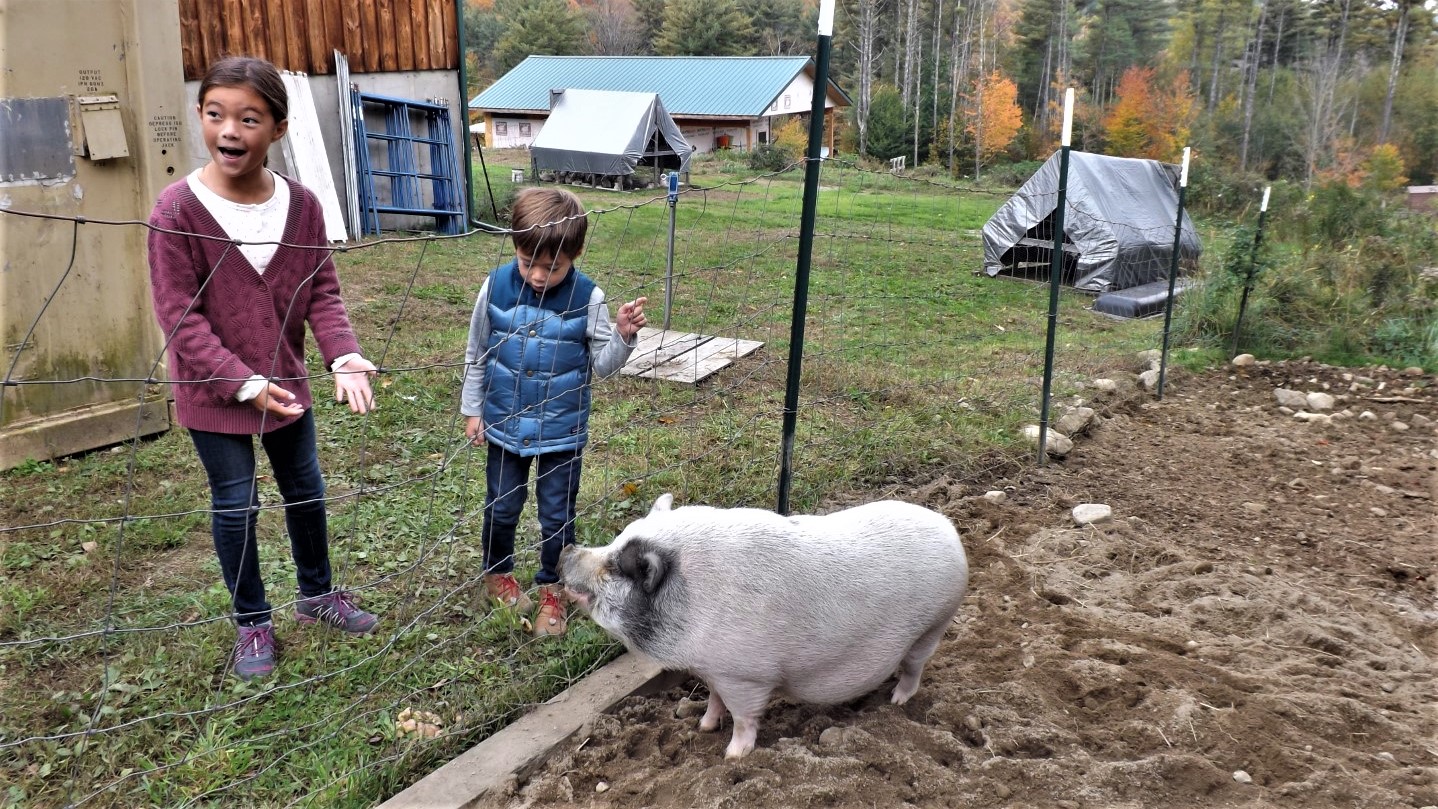 Just 11 miles from the hustle and bustle of Lake George's tourist scene, Thurman offers a world of winding country roads, family farms, maple groves and sawmills nestled in the mountains of Warren County. This Saturday, October 9, Thurman Farms opened their barns to the public for the Thurman Fall Farm Tour, which takes place on Columbus Day weekend every year.
"We have a constant flow of people today," says Sarah Whitefield of Whitefield's Farm on Mountain Road. Whitefield's was established almost 20 years ago by Don and Michelle Whitefield on the site of the historic Sun Canyon Dude Ranch. According to Michelle Whitefield, the squatters had moved into the old stone barn and left it filled with garbage. It took them three years to clean and restore the structure.
The 120 'by 60' barn now houses Whitefield poultry. They raise turkeys, chickens, geese and ducks. Michelle says they sell geese and ducks to local restaurants, and the Erlowest Inn on Lake George serves their specialty chicken breasts and sausages in their dining room. The Whitefields gave visitors to the Thurman Fall Farm Tour free samples of their tasty poultry sausage. They are currently taking orders for holiday turkeys.
Further north on Valley Road, cars lined the street in front of Martin's Lumber to browse arts and crafts, rustic furniture, wood plaques and other locally produced items donated by two dozen vendors. Wax 'n' Wicks of Lake George was on hand to offer their unique candle making opportunity. At Martin's, visitors could learn about the spread of fungi and herbs on walks in the woods.
Thurman has a strong maple syrup industry, and Mud Street Maple has demonstrated that its 27-acre sugar bush with 1,700 taps produces much more than syrup. Their boutique sells maple creams, sugar candies, cotton candy, maple coated nuts and maple coffee, a product available exclusively from maple growers in the State of New York. Mud Street Maple offered Fall Farm Tour visitors free samples of the roast. In addition to traditional syrup, Mud Street Maple creates infused syrups and their bestseller, bourbon maple syrup.
Mud Street Maple owners Robin and Jeff Mahler began production seven years ago in their home. After three years, they outgrown space, says Robin, and built their sugar shack to house processing equipment and their maple products store. Mahler invited visitors to return in March during Thurman Maple Days to see the production of maple syrup in the spring and to sample maple recipes.
Just down the road from Mahler's Sugar Shack is the Blackberry Hill Farm operated by Irene and Bob Barody. Blackberry Hill raises cows, chickens and pigs using organic farming methods. They sell shares of grass-fed cows, a system Irene likens to paying for board and lodging for the animal. The farm stand also sells seasonal produce, which at this time of year are hearty green vegetables such as kale.
At Thurman Town Hall on Athol Road, members of the Thurman Quilting Club displayed their art, offering quilts, place mats, wall hangings and table runners for purchase. The club has been meeting for about fifteen years. Gail Frienz says club membership is open to anyone interested in quilting. They meet every Monday at 6.30 p.m. at the town hall of Thurman. Each member brings a current project to work on. Some weeks, Frienz, owner of Frenz Quilting in Brant Lake, brings his quilting arm to assemble members' projects.
In total, the Fall Farm Tour 2021 had 9 stops. Visitors could have their business cards punched at each location and hand them over at their last stop for a chance to win a gift basket of local produce.
Fphoto taken: Annachiara and Matteo Jones from Mamaroneck, New York, visit a flat bellied pig at Blackberry Hill Farm during the Thurman Fall Farm Tour 2021.
Related