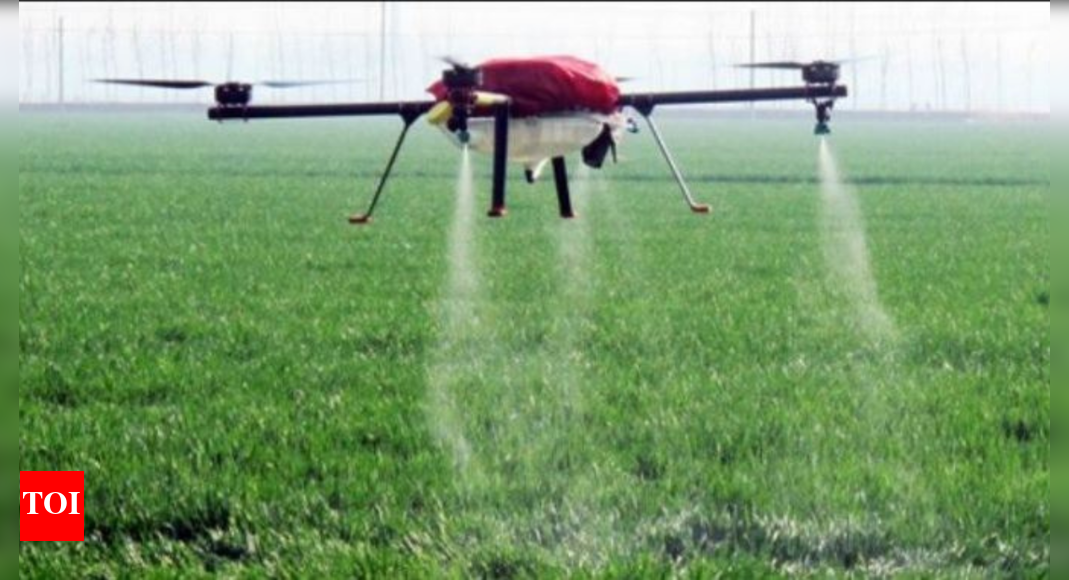 NEW DELHI: In a major boost to the use of drones in agriculture, the Union Ministry of Agriculture has issued funding guidelines to make this technology affordable by assisting in the purchase, rental and demonstrations of agricultural drones.
The "Sub-Mission on Agricultural Mechanization" (SMAM) scheme is planning to award up to 100% or Rs 10 lakh as grant funding for the purchase of drones by ICAR, Krishi Vigyan Kendras Institutions and Agricultural Universities of state. It provides for a 75% subsidy for the purchase of drones from agricultural producer organizations (OPP). Financial assistance and grants are applicable until March 31, 2023.
"Rs 6,000 per hectare (will) be given as contingent expenses to implementing agencies who hire drones for demonstrations. Rs 3,000 per hectare to be paid as contingent expenses to implementing agencies purchasing drones for drone demonstrations. Forty percent or up to Rs 4 lakhs of grants for the purchase of drones to existing Custom Recruitment Centers which are set up by the Cooperative Society of Farmers, FPOs & Rural entrepreneurs," said the President of the Indian Federation drones, Smit Shah.
"Fifty percent or up to Rs 5 lakh drone grants to agriculture graduates establishing one-to-one employment centers. Proposals for the purchase of drones must be submitted through the state government for consideration to the program's executive committee for the allocation of funds," the guidelines state.
"With a standard agricultural drone model costing between Rs 8 and 10 lakhs, this step has made the purchase of agricultural drones almost free for leading agricultural research and training institutions. These institutes will in turn provide demonstrations across the country to promote the use of agri-drones. The subsidized purchase of agri-drones for FPOs, CHCs and agribusinesses will make them affordable, subsequently driving their rapid adoption…. (It) will make drones accessible to the common man of India and will greatly boost domestic drone manufacturing," said Smit Shah.