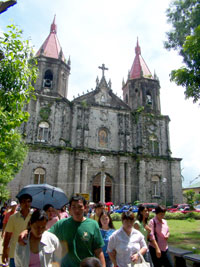 Molo celebrates the 232nd patronal feast
Expect heavy traffic in the Molo district today as its residents celebrate their 232nd patronal feast in honor of Saint Anne. The theme of this year's party is "Kabataan: Bugay nga Balaan, Gugma sang Ginikanan, Paglaum sang Simbahan."
The parish headed by its parish priest, the Rev. Tomas Delicana has chosen to give an important place to children during the patronal feast of this year. Social, moral and even physical problems affecting children were also chosen as a theme during the nine-day novena Masses held in honor of Saint Anne.
An image of Saint Anne teaching the Blessed Virgin Mary to read the Holy Scriptures is on the main altar of the church. Molo Church is the only Gothic church in the whole country built outside of Manila. For Catholics, Saint Anne is the mother of the Blessed Virgin Mary and the grandmother of Jesus Christ.
In today's concelebrated Mass, Bishop Antonio J. Ledesma is the main celebrant. It will take place at 9:00 a.m. Church and city government officials are expected at the Eucharistic celebration.
Bishop Angel Lagdameo, Archbishop of Jaro, presided over the feast mass scheduled for yesterday. Also yesterday, seminarians in theology of the Visayas and 25 priests celebrated a mass in the parish of Sainte-Anne.
There will be seven Masses today in honor of Saint Anne. Masses will be at 5:00 a.m., 7:30 a.m., 9:00 a.m., 10:30 a.m., 3:00 p.m., 5:00 p.m. and 6:30 p.m. in the evening. After the 5am mass, there will be a procession.
The Molo district is not only known for its Gothic-style church with 16 saints but also for the famous molo pancit which is a signature dish of the place.
The themes of the nine-day novena masses were Kabataan nga May Ginikanan sa Luwas sang Pungsod; Kabataan nga Napwersa sa Pagpangita sang Palangabuhian; Kabataan nga Biktima sang Aborsyon; Kabataan nga Naga-antus sang Kapintas sang Ginikanan; Kabataan nga Naga-antus sang Makamamatay nga Balatian Kaangay sang Kanser; Kabataan nga Nangin Biktima sang Ginadilian nga Droga; Kabataan nga Ilo kag wala sang Puloy-an; Kabataan nga Biktima sang Nagkalain-lain nga Pang-abuso and Kabataan nga may Diperensiya sa Lawas kag Panghuna-huna.
The novena masses were sponsored by the various people who are devotees of Saint Anne, the 18 barangays of Molo, schools and universities, commercial establishments and various organizations.
In addition to the Eucharistic celebration, members of the Molo police station will also be deployed to maintain traffic, peace and order during the celebration. Uniformed and non-uniformed police officers will be stationed specifically in the church and in the square.